For many people, a wall-mounted tablet running a home dashboard is usually the centerpiece of their home automation setup. Today there are many software options that can help you create the ultimate dashboard. In this post, I will look at three examples from a simple pre-built option to a fully custom dashboard.
1. Pre-built dashboard: DAKBoard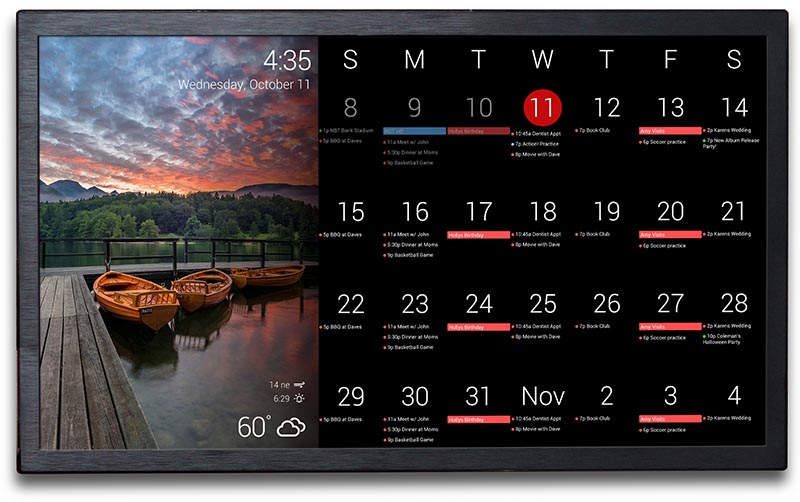 I started looking at DAKBoard for the first time a few years ago and I really liked the simplicity of having all integrations and templates pre-built. You use DAKBoard's website to create your dashboard layout, link all necessary integrations, and then expose it to your target screen using a simple URL. DAKBoard even offers pre-configured hardware packages either with LCD screens (starting at $379) or without LCD screens (i.e., using your existing monitor, starting at $99).
The breadth of existing integrations should be more than enough for most users. You can expose among others:
Calendars (Google Calendar, Outlook 365, iCloud etc.)
Photos (Google Photos, Reddit, Dropbox, Instagram, Apple Photos etc.)
Thermostat controls (Nest, Ecobee)
Weather
News and stocks information
Air Quality
Traffic information
You can also configure fonts, colors, add custom messages, and videos. DAKBoard has a free plan that allows you to choose from some basic integrations and pre-defined layouts, but ultimately most users will probably need the Essential plan ($5/month) to fully leverage DAKBoard's capabilities.
I think DAKBoard is a great option that will work for 90%+ of users who want a solution that works out of the box. For this convenience, you have to pay a monthly fee, but running all of these cloud integrations is not free either, so I think $5/month is a fair price to pay.