Blocking ads at the DNS level became very popular recently with Pi-Hole and AdGuard emerging as the two most popular solutions. Although for an average user, the process of setting up these self-hosted apps and configuring your network to work with the new DNS server can be a little challenging. I have discovered a slightly simpler solution that is already built into every single Synology router.
Synology is known primarily as a leader in Network Attached Storage (NAS) space, but around 5 years ago they started offering high-end home routers as well. This router product line is built around the SRM operating system which is a fork of the popular DSM system used for NAS devices. One of the key features of SRM is the ability to install additional apps using the Package Center and that is exactly how you can turn your router into an effective ad-blocking machine.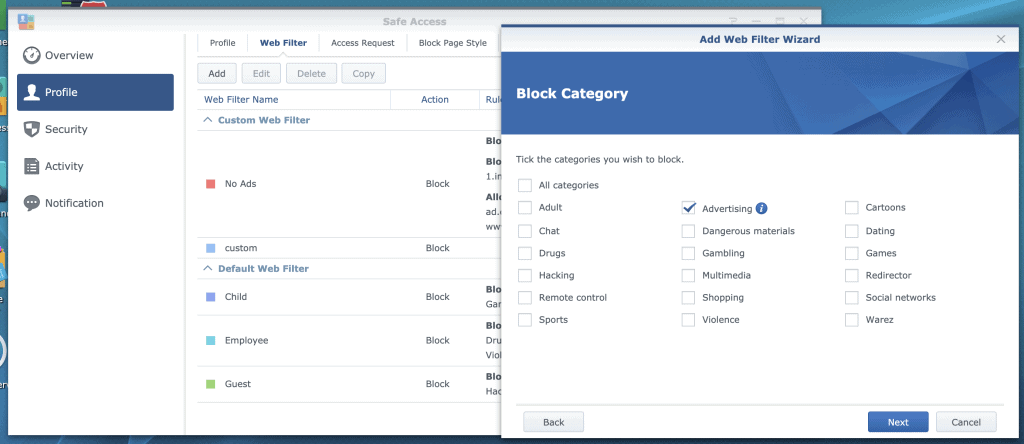 Step-by-step instructions:
Launch Package Center and install Safe Access
Under Safe Access, go to Profile > Web Filter > Add to create a new web filter rule
Give your web filter a unique name (e.g., No Ads) and as action select "Block"
On the next screen, select Advertising as a category that you would like to block
In the final step, you can add websites that you want to block, but feel free to skip this setting for now. You can always come back to it later. Click Apply to save your web filter.
In case you don't have any user profiles, create one under Profile > Profile > + (you can also create generic profiles that apply to all devices on your local network or guest network)
Go to profile settings (three dots in the right corner of the profile tab) and open the tab named Web Filter. Here, select your No Ads filter and click save your settings.
Going forward, devices under this profile will stop seeing ads from known advertising domains and will not be tracked using known cookie sources. Network-level blocking is really useful for devices that cannot run ad-blocking browser plugins including iOS devices or smart TVs. Synology regularly updates this list, but you can always add your own whitelist and blacklist under the web filter settings. For example, I still prefer to be able to click on Shopping results in Google search which required me to white-list Google servers.
Synology ad-blocking is of course nowhere close to the level of sophistication of dedicated ad-blocking solutions such as Pi-Hole and AdGuard, but with a little bit of tweaking, it works surprisingly well. The advantage is one less device or container to manage and you will likely see some speed improvements as well (since the application is running directly on your router instead of a separate DNS server).